I am going to Kamloops to host the district jazz workshop on March 29th. There is a pretty neat story surrounding this which I'd like to share, to help increase student enrollment and community engagement. The official info is here: https://www.kamloopsmusiccollective.info/blog/join-us-for-jazz-jam-and-hone-your-skills 
Christy Gauley (a peer of mine from jazz choir at Westsyde Secondary) is now the District Coordinator for the Arts for SD 73 in Kamloops. Working together with Kim Mangan of Kamloops Music Collective (KMC), Christy approached me to plan and run a jazz workshop for grade 8-12 students (we are calling it "Jazz Jam"). It is facilitated by a grant through the 2018 JUNO Awards Host Committee, in partnership with Creative BC and Music BC, part of $30,000 in funding for 33 @letshearitbc Experience Music Program events across BC. 
Our aim is to teach the basics of jazz to make it more accessible to students, who often balk at the idea of playing jazz and improvising, since it can seem intimidating and overwhelming. It is a rekindling of the District Jazz Program where professional jazz musicians mentored students leading up to a live performance in a cafe or club. For the young musicians at Jazz Jam, their workshop day will end in a finale jazz concert from 5:30-7PM at the Kamloops United Church, where they will perform alongside the professionals. 
I am really excited about this event because of my personal history with jazz in Kamloops.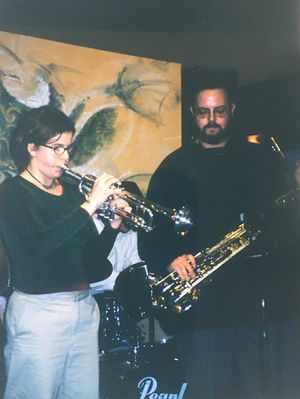 I was in grade 11 when the first District Jazz Program started, spearheaded by Steve Griffith and his band S.G.H.Q. I auditioned on trumpet, which I had been excelling on, playing in the Westsyde Stage Band for a little over a year. I had also participated in jazz bands and combos at KISSM (Kamloops Interior Summer School of Music). 
I didn't know very much about improvising at that time, save for a few scales that were supposed to work. Steve was a sax player that I had always admired. I used to go hear his band play at Java Cycle and other venues, so this was an exciting opportunity to perform with the pros. His leadership was inspiring and I learned lessons from him that I still teach today. The other members of the Quartet were highly engaging to work with as well. Virtuoso drummer Richard Graham was a recent Westsyde grad and composer Peter Ward on bass was a seasoned pro. Lastly, I was also coached by Oliver Rinaldi, composer and pianist. 
Oliver was the first person to tell me I should sing jazz. He was coaching a vocal student on her song, and I somehow got to sing a few notes for him by accident, trying to help her with the phrasing. He immediately asked me if there was any song that I knew and wanted to sing. At the time I only knew the standard song "When Sunny Gets Blue" from my first audition attempt for Westsyde's Jazz Choir over a year earlier. Needless to say, my secret wish to be a jazz singer materialized and I performed that song at the concert. Through university while studying jazz trumpet, my combos would often invite me sing here and there. Ironically, after graduation I ended up performing mainly as a vocalist at first instead of as a trumpet player. 
Coming full circle to Kamloops as a young professional, I started working with some of these same players from the days of District Jazz. The arts community of Kamloops was grieved in 2003 after Oliver Rinaldi passed away too soon from cancer. For District Jazz and SGHQ, guitarist and keyboardist Kris Ruston filled Oliver's shoes in the years since. I am very pleased that Kris will be joining my group for this workshop to share his unique stylistic approach to soloing with the kids. 
The pictures included below I dug out from my old photo albums while contemplating this story. I am pictured playing my trumpet alongside Steve Griffith in 2000. Steve also tragically passed away in 2011, leaving a treasured legacy of students he had positively influenced. One of the best lessons I learned from him was, "If you play a wrong note, play it again immediately. Then it seems like you meant to do that." 
The other picture included is of me performing at Paradiso (now the Commodore) in Kamloops with Kris Ruston, Richard Graham and Peter Ward in 2006. 
Sadly, just last year our friend Peter Ward also passed away. He and I worked together many times so I was happy to hear that his son, Alexander, has picked up the torch and is now an exciting up and coming bassist and keyboard player living in Kamloops. He is excited to carry on with his father's work sharing the joys of jazz with the ambitious bunch that sign up for this workshop. Of course my longtime friend and bandmate Richard Graham and SGHQ veteran will be backing us up on drums at Jazz Jam. 
I am looking forward to sharing the secrets of this music with the next generation of Kamloops students and honouring the legacy of jazz in Kamloops.