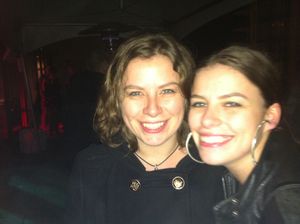 So I started a band this summer with my twin sister Elizabeth Eccleston (Blythwood Winds, Prof. Queens), and my best buddy Doug Gorkoff (Black Dog String Quartet, KSO). It all started with a Sound of Music and Phantom of the Opera Medley for my brother's wedding in May (the wedding theme was musicals). We killed it and never thought about it again until jazz fest. As Lizzie and I plotted future plans for my solo act, we also began a list of all the songs we've always wanted to play. And the list got long and longer and continues to grow. I guess we are kind of a cover band at the moment, picking tunes hearkening back to our teenage years, while tinging our sets with peculiar, quirky contemporary songs. Who knew that Gollum's Song would pair well with Daft Punk's Instant Crush?
Our rather unusual instrumentation challenges the cover band format, ukulele paired with cello, highlighted by oboe and english horn supporting our twin vocal harmonies dancing above.
A concept we've maintained with Girl A Girl B is to invite guests to sit in wherever possible. It began with my other brother Wesley (Prof. TRU) and his secretly amazing voice as the Phantom in our epic medley, and spawned this summer into guests from Las Estrellas de Vancouver (Michelle Cormier and Jocelyn Waugh) for Rich Girl and a slow-jam version of La Bamba. Our most recent guest, violist John Kastelic (Salt Thief, Black Dog String Quartet, KSO) practically played the whole show with us and even graciously let me sing his amazong original song Lovely Day. Previously recorded with Black Dog String Quartet, we were lucky to have Elyse Jacobson sit in on first violin and Elizabeth covered vocal harmonies and 2nd violin on her oboe.
As summer came to a close my twin Elizabeth headed back to Toronto to teach at Queens University, freelance in orchestras and produce shows with her woodwind quintet (Blythwood Winds) while I'm still plotting my future plans, which now include this unexpectedly delightful project. We began writing songs in the final days of summer, inspired by those artists we've covered and that have influenced and driven us through the years.
To keep up with Girl A Girl B please follow us on Instagram: @girlagirlbmusic, Facebook: @girlagirlbmusic and Twitter: @GirlAGirlB to see where this whimsical voyage is leading.